Nominees 2022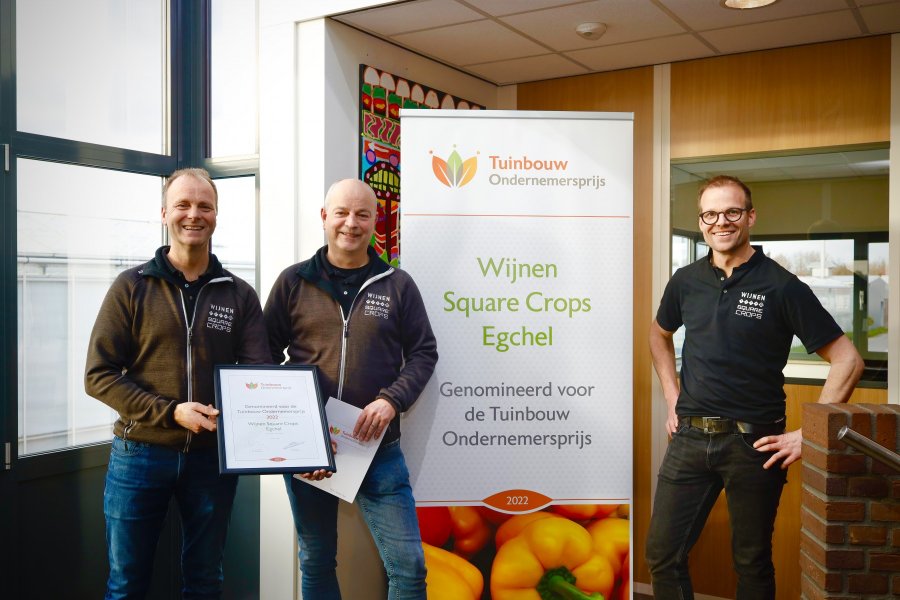 pioneer in sustainable energy and cultivation
Wijnen Square Crops grows bell cucumbers and mini cucumbers on 18 hectares and bell peppers on 32,5 hectares on two sites in northern Limburg: Egchel and Grubbenvorst. This scale and the fact that the nursery is equipped with the latest technologies mean that production is professional, efficient and sustainable. Pieter Wijnen does that with the help of professionals with extensive knowledge and experience, because the company manages to retain its staff. The entrepreneurs show commitment in the use of sustainable energy sources. They invested in geothermal heat in Grubbenvorst in 2012, and in the use of biomass at both nursery sites in 2020 and 2021, which means that more than 65% of the company's energy consumption is fossil-free and sustainable
The trade jury believes that Wijnen Square Crops is an innovative, market-oriented and innovating business that has taken good steps towards sustainable cultivation. Commitment is being shown in the use of sustainable energy sources through the use of biomass at both sites, which means that more than 65% of the company's energy consumption is fossil-free and sustainable. In order to retain good staff, Wijnen provides decent accommodation for the international employees. Wijnen was originally a traditional family business, and is now a company with a family culture where the employees are seen as an important guarantee of survival for the business.
Wijnen Square Crops has been nominated by Rabobank.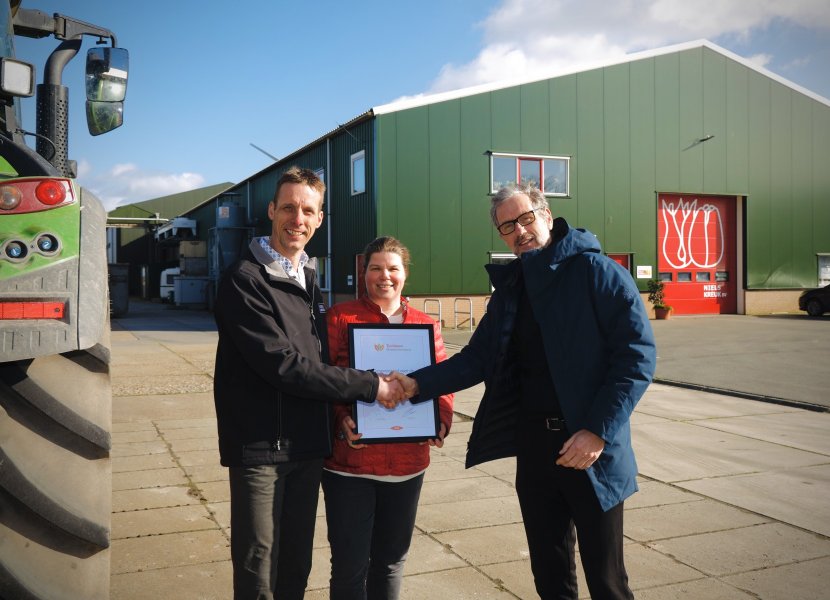 Pioneers in new cultivation systems
When he took over the tulip nursery from his parents in 2005, Niels Kreuk knew that he wanted to automate and update the nursery in Andijk to the latest cultivation methods. Reducing the use of energy, crop protection and water were thereby the goals. Niels Kreuk was the first tulip grower to apply the New Cultivation principles in a greenhouse with three layers. He also invested in the latest technologies for air distribution in the storage of the bulbs. In addition, he introduced automated internal transport with the goal of working more smoothly, more flexibly and more easily and thereby achieving a better end product.
According to the trade jury, Niels Kreuk b.v. is a company that has been successfully transformed in recent years into a sustainable and innovative tulip nursery with courage and ambition; a real pioneer in the tulip business. Alongside multilayer cultivation, innovations have also been implemented in recent years in the storage of bulbs. The entrepreneur's focus is on sustainable improvements such as reusing water and LED lighting. The entrepreneur has a vision of small-scale entrepreneurship which enables him to spot opportunities for growth by adding value. Niels Kreuk does that with the production of fresh mixed bouquets for regular customers.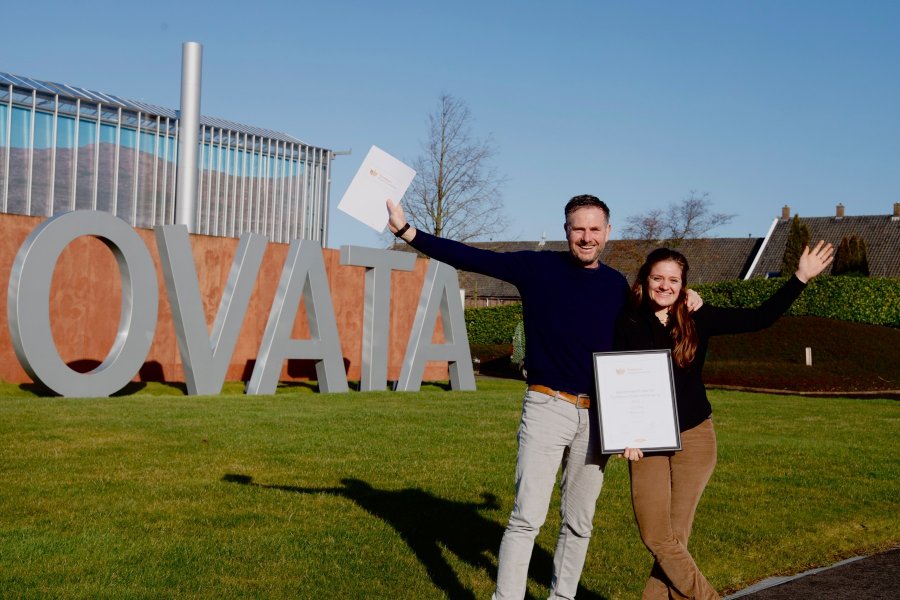 In harmony with nature
Passion, sustainability and experience are very important at OVATA. Since 1987, Hans Ammerlaan's family business in Bleiswijk has been growing over 30 million succulents originating from all over the world every year on 10 hectares. The entrepreneurs' focus is on quality, the environment and good social working conditions. The vision for a future of sustainable entrepreneurship is clear: hence OVATA wants to be growing entirely organically next year, and use only peat-free substrate by 2025. The goal is to achieve the Skal certificate within 6 years.
The trade jury believes that OVATA is an ambitious, innovative and sustainable family business with a clear vision for sustainable development into the future. OVATA has an eye for innovation in terms of cultivation, and shows how niche products - of which 75% come from its own breeding programme - can do well through excellence in processes. Big steps have been made in recent years in terms of the sustainable 'natural' cultivation of succulents. The trade jury appreciates the social engagement, both internationally in Uganda with the 'Because we care' project and locally with work for people struggling to engage with the labour market.
OVATA has been nominated by MPS.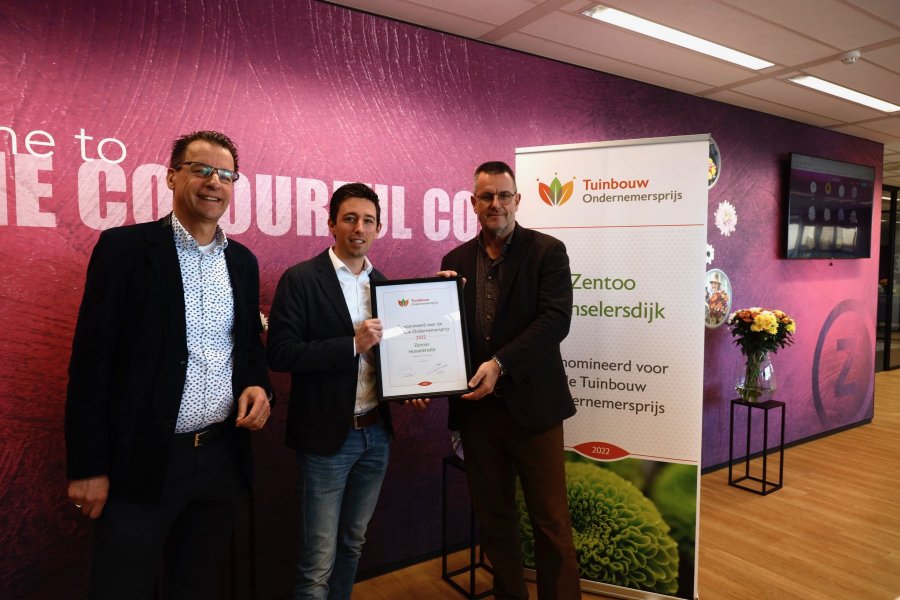 A colourful collective
This collaboration of chrysanthemum growers started in 2007 with 4 growers and 20 hectares, and has now grown into an association of 15 growers with over 100 hectares. The chrysanthemum growers' collective offers more than 100 innovative varieties, and together they produce 330 million stems a year. With ever more far-reaching forms of concentration and upscaling, Zentoo is now a brand. This form of collaboration is unique within the floriculture sector. The growers each have their own 'garden', but share knowledge with one another and sell under a single brand name and trade with a single account. Zentoo makes use of sustainable energy sources such as CO2, a waste product from Rotterdam. The greenhouses are heated using geothermal heat and heat pumps instead of natural gas. They also generate a lot of electricity with large numbers of solar panels. In order to be able to ensure good quality all year round, Zentoo is increasingly using LED lighting to reduce its energy consumption.
The jury believes that Zentoo is an engaging, ambitious and sustainable business that has given chrysanthemum cultivation a boost over the past 10 years with effective marketing activities. It have shown itself to be a reliable innovator, including through the use of LED lighting, biological crop protection and data-driven cultivation, so that cultivation is being optimised sustainably. The far-reaching collaboration both with the growers in the collective but also with others in the sector is at the heart of Zentoo's business model.
Zentoo has been nominated by Royal FloraHolland.