Anthura wins 2019 Horticulture Entrepreneur Prize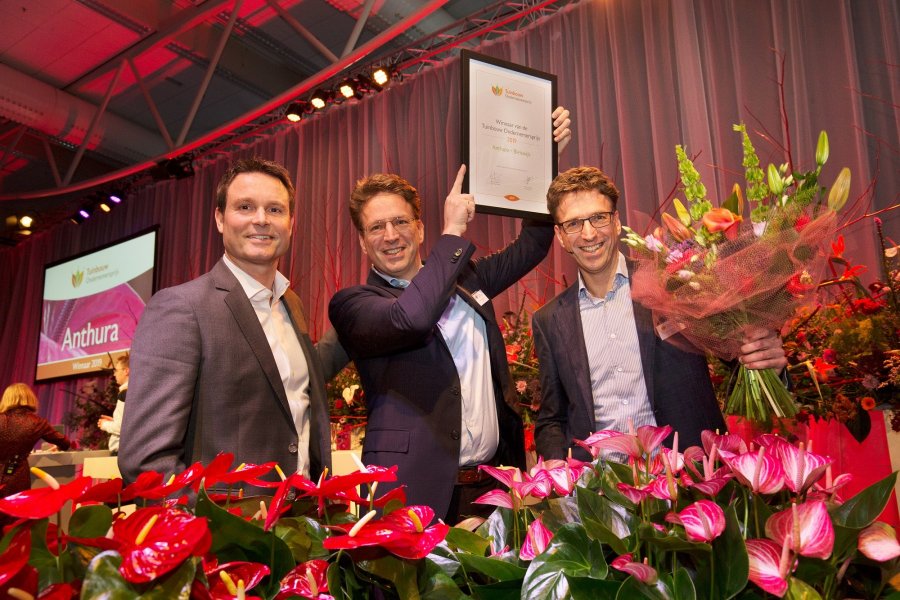 Anthura from Bleiswijk is the overall winner of the 33rd edition of the Horticulture Entrepreneur Prize. The plant breeding and propagation business can proclaim itself an ambassador for the horticulture sector for a whole year. Anthura was presented with the prestigious prize by chairman Michiel F. van Ginkel because of the impressive development that the company has undergone, its sustainable agenda and good employer practices. The prizegiving took place during the horticulture sector's well-attended New Year event in Keukenhof, Lisse.
Four companies were nominated for the 2019 Horticulture Entrepreneur Prize. They are Anthura from Bleiswijk, Dekker Chrysanten from Hensbroek, Opti-flor from Monster and Wim Peters Kwekerijen from Someren. All four companies stood out because they have undergone a remarkable development in their own way, as a result of which they can be successful not only today but also in the future. It was not easy for the jury to make its choice, because they are really all winners. These entrepreneurs can justifiably be described as the sector's pearls.
Ultimately the choice was made for Anthura, partly because of its strong international positioning which has required and still requires a lot of pioneering work. The three directors strive for a healthy business, but are also heavily engaged with projects that do not always have a commercial goal. The concept of 'sustainability' runs through all the operating processes. The well-trained employees are given opportunities to develop themselves further, as a result of which the company has a lot of in-house expertise and craftsmanship. That makes Anthura a worthy addition to the list of winners of the Horticulture Entrepreneur Prize.